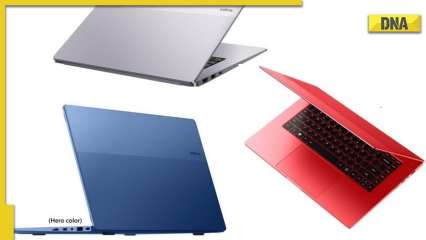 Infinix Inbook X2 Plus budget laptop launched in India, price starts at Rs 32,990: specs, deals | Photo: Infinix
Infinix has introduced the Inbook X2 Plus laptop in India at an affordable price. The recently announced Inbook X2 Plus is priced at just Rs 32,990 in India and offers fantastic features including a premium design, great battery life and ample storage. The gadget and the Infinix 43Y1 TV have both been officially launched in India. Here's everything you need to know about the Infinix Inbook X2 Plus if you're looking for a budget-friendly laptop.
Infinix Inbook X2 Plus: Specifications and more details

According to the Infinix Inbook Plus X2, it is the lightest notebook in this price range. The 1.58 kg laptop has a 14.9 mm thin aluminum alloy metal body, a 1080P FHD camera and dual LED fill lights for more quality even in low light.
READ | Apple iPhone users in India will be able to use 5G network from December, Apple confirms 5G software update
It features a backlit keyboard, dual speakers with DTS audio processing, and a 50Wh battery that can support up to 10 hours of movie playback. The laptop can be charged up to 65% in about 60 minutes with the 65W Type-C Fast Charger.
The laptop is suitable for both meetings and online learning thanks to its 1080p FHD web camera, which has the highest resolution in this category. The laptop is available with three different processor options: the 11th Gen i3 (8GB + 256GB and 8GB + 512GB), the i5 (8GB + 512GB) and the fastest i7 (16GB + 512GB).
READ | Mark Zuckerberg criticizes Apple's plans for Metaverse and praises Meta's work
Infinix Inbook X2 Plus: prices in India

In India, different variants have different prices; The price range is between Rs 32,990 and Rs 52,990. The gray and blue color model for the 8GB + 256GB i3 variant is priced at just Rs 32,990 while the 8GB + 512GB i3 option is priced at Rs 35,990. A fantastic alternative for those with a slightly higher spending limit, the 8GB + 512GB i5 costs Rs 42,990.
The most expensive model of the recently released i7 version 16GB + 512GB costs 52,990 rupees. Customers can get up to 33% off Infinix Inbook X2 Plus laptops in Flipkart's sale. The top of the range laptop is offered at an affordable price with a 33% discount, bringing the price down to Rs 52,990 instead of Rs 79,990.
READ | Moto G72 goes on sale in India via Flipkart: bank rebates, specs and more