Actress Priyanka Chopra has attacked Hasan Minhaj in a show of support for Pakistani activist Malala Yousafzai. Malala had previously shared a role of the comedian pretending to express sadness at unfollowing him in a sketch on Instagram and mentioning that she would no longer follow him. Priyanka posted a screenshot of Hasan's profile showing that she's not following him back either.
Priyanka wrote: "Same girl, same malala. Seems like he prefers petty to funny."
in his role, Hasan had shot Malala and said he wasn't returning the favor while she followed him. The next day Malala didn't follow him, as he says in the role. He said: "All right, the shit's gotten out of hand. On October 4th, I made a joke about Nobel Peace Prize winner Malala Yousafzai. I said she follows me on Instagram and I don't follow her back. Then, on October 5, she hit back. She posts an Instagram story that reads: "Should I stop following Hasan Minhaj? 39% of their voters said, "Who is this man?" 38% of them said "yes". Instead of running a runoff, she unfollowed me on Instagram. I'm sorry Malala. follow me back But I don't know if I will follow you. I'm so petty." Malala captioned the reel, "Thanks to everyone who sent me this video because I'm unfollowing this man."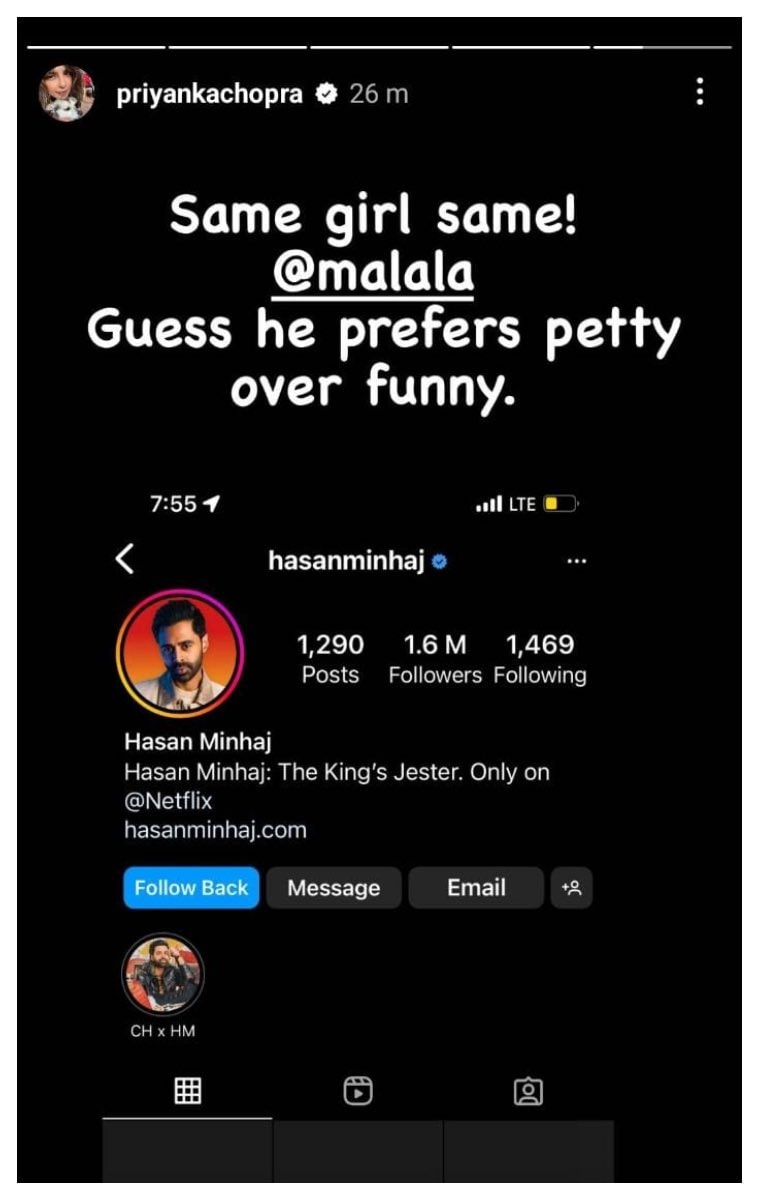 Priyanka recently championed children's rights when speaking at a conference at the United Nations General Assembly in New York. She also posed for photos with Malala and US poet Amanda Gorman. Priyanka, who became a UNICEF Global Goodwill Ambassador in 2016, shared a photo with Malala and Amanda and wrote, "So proud to share the stage with these two remarkable women."
On the work front, Priyanka has several projects in the pipeline including Citadel and the Bollywood film Jee Le Zaraa.